WE ARE THE LEADER OF POLAND'S HOUSING MARKET
We are the largest and one of the longest-running developers on the Polish market. We have been active since 1996 and listed on the Warsaw Stock Exchange since 2006. As of the end of 2022, we have delivered 46,000 apartments and luxury suites.

WE ARE PRESENT IN WARSAW, WROCLAW, TRI-CITY AND CRACOW
We are mainly active in the Warsaw market, but we have also been present in Wroclaw since 2008, in the Tri-city area since June 2017 (through Euro Styl sybsidiary) and since July 2021 in Cracow (through Sento subsidiary). In May 2018 we established Dom Construction which serves as the general contractor for most of our projects in Warsaw, Wroclaw and Cracow, while Euro Styl Construction performs this role in Tri-city.
WE CREATE DREAM PLACES FOR LIVING

Mission

Our mission is to help our Customers to fulfil their dreams of owning their own homes – and it's their satisfaction and peace of mind that drives us in our work.

WE SUPPORT OUR CUSTOMERS ON THE WAY TO THEIR OWN HOMES

We provide a wide residential portfolio by carefully selecting the right location mix for our projects.
We are committed to delivering the highest quality not only in our projects but also through our customer service, at every stage of purchasing your apartment. We help you choose the best home, secure financing and negotiate the formalities right up to moving in. As the largest residential developer in Poland, we are setting a new high standard on the market.

WE ARE TRUSTWORTHY

Vision

As a listed company, we are fully transparent. Stock-market reports confirm our sound financial standing, low debt levels and solid financial stability.
With our own general contractor subsidiary, we are able to ensure that our projects are delivered efficiently and without complications, as well as they meet the high-quality standards demanded by Dom Development Group.

ESG STRATEGY - DOM 2030
DOM 2030 is the Group's sustainable development strategy. It defines our environmental, social and corporate governance objectives.
Within DOM 2030 we set measurable objectives in support of our mission. This document also contains a summary of the Group's achievements to date and our sustainable development philosophy.
.
Green Project Charter
The Green Project Charter (GPC) is an internal standard introduced in 2022. It guarantees optimal benefits for residents, and design solutions that are consistent with the priorities of sustainable urban development. Each of the elements of The Green Project Charter has prescribed point value. When one of our projects meets 75% of required points it complies with GPC.

Our goal is to gradually implement this standard, ultimately to have all projects compliant with it in 2026.


WE ARE FAIR
Each day means a new challenge, new contacts and a new perspective. All our decisions have one thing in common, though. This is responsibility.

The "We are Fair" programme combines our standards with thoughtful promises in three areas of responsibility: for our products, our relations and for the local community.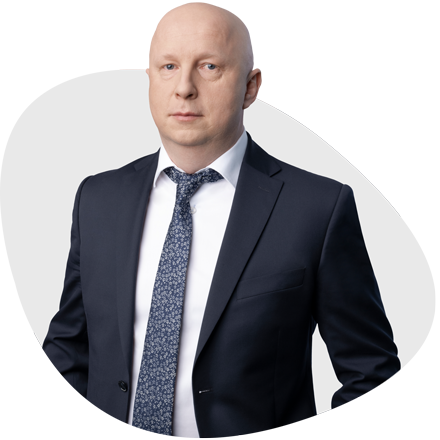 Marcin Rams
President of the Managing Board
learn more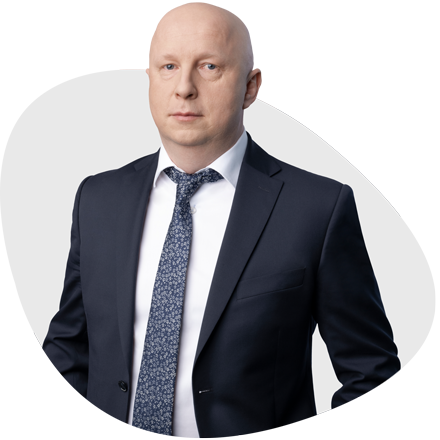 Marcin Rams
President of the Managing Board
Connected with the Capital Group Dom Development S.A. since 2021. Since 2022, has held the position of the President of the Managing Board of Dom Development Kraków Sp. z o.o. He has more than 20 years of experience in the development industry. In the years 2011-2021, member of Managing Boards in target-based companies executing SENTO residential projects. He is a graduate of the Academy of Economics in Katowice. He also graduated from MBA studies at University of Minnesota and Warsaw School of Economics.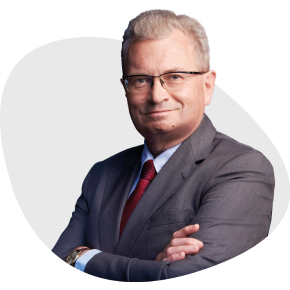 Jarosław Szanajca
Member of the Managing Board
learn more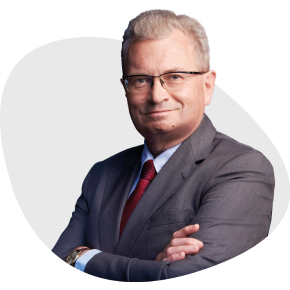 Jarosław Szanajca
Member of the Managing Board
One of the founders of Dom Development S.A. and President of the Managing Board of the company since its founding in 1996. Since 2017, he has also had positions on the managing boards of Dom Development Wrocław Sp. z o.o. and Euro Styl S.A. companies, which are incorporated in the Capital Group Dom Development S.A. Furthermore, since 2022 he has held the position of the Member of the Managing Board in Dom Development Kraków Sp. z o.o. He has more than 25 year experience in the development market. By education a lawyer, graduate of Warsaw University.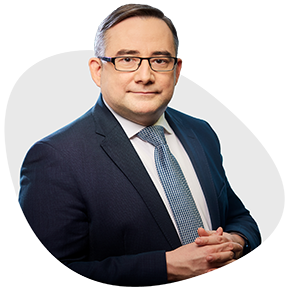 Leszek Stankiewicz
Vice President of the Management Board, Chief Financial Officer
learn more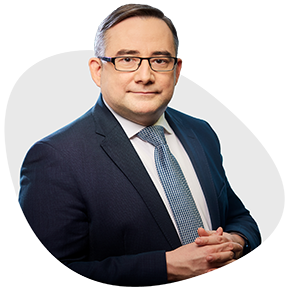 Leszek Stankiewicz
Vice President of the Management Board, Chief Financial Officer
He has been with Dom Development S.A. since July 2019, initially as Deputy Chief Financial Officer and subsequently, since March 2021, as Vice-President of the Management Board and Chief Financial Officer of the company. In addition to this, since August 2019 he has been a Member of the Management Board and Chief Financial Officer of Dom Construction Sp. z o.o., an in-house general contractor within Dom Development S.A. Capital Group.

He graduated from the Faculty of Economic Sciences of the University of Warsaw and from the Warsaw School of Economics, in the field of finance and banking. He also completed his doctoral degree at the Faculty of Management of the University of Warsaw. He has over 20 years' experience in top executive positions including nearly 10 years in the construction sector.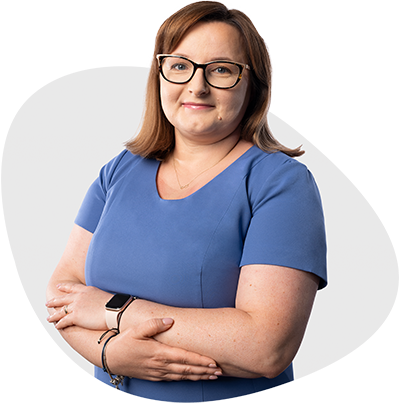 Agnieszka Zawadzka
Member of the Managing Board
learn more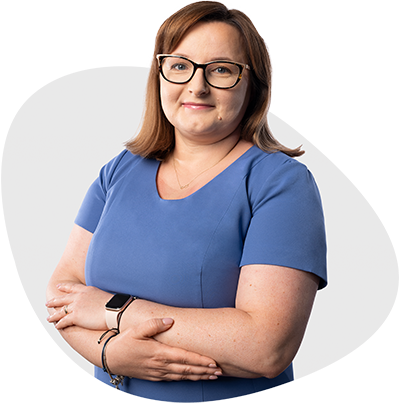 Agnieszka Zawadzka
Member of the Managing Board
Connected with the Capital Group Dom Development S.A. since 2022 . She has 20 years of experience in the development industry. Graduate of the University of Agriculture in Cracow in the Faculty of Environment Engineering and Geodesy. In the years 2012-2022, she held the position of the President of the Managing Board, Member of the Managing Board and Member of the Supervisory Board in Buma Group companies, and since 2016 responsible for the general strategy of the developer, in particular with respect to advertisement and marketing, apartment sales , office space rental and real estate management.
Janusz Zalewski
Deputy Chairman of the Supervisory Board
Grzegorz Kiełpsz
Chairman of the Supervisory Board
Marek Moczulski
Deputy Chairman of the Supervisory Board
History of Dom&nbspDevelopment Group
ESTABLISHMENT OF DOM&nbspDEVELOPMENT

Jasna 2/4 street was the first registered office of&nbspDom&nbspDevelopment&nbspSp.&nbspz&nbspo.&nbspo., which employed only&nbsp10 people in the beginnings of the company.

Nowadays Dom&nbspDevelopment Group has several hundred employees and associates of various specialisations - professionals who ensure that we&nbspdeliver top quality client service and products.

Your browser does not support the video tag.

FIRST PROJECT COMPLETED

Two years after breaking ground, our first project - Akacje 1 - was&nbspsuccessfully completed. It has been built on Odkryta street in&nbspthe Białołęka district of Warsaw.

Since then, we have handed over the keys to&nbspmore than 39 000 apartments over a period of&nbsptwo decades, making dreams come true for nearly 118 000 satisfied clients.

INTERIOR DESIGN

We were the first developer in Poland to offer "turn key" apartments. Until now, we have delivered over 4 000 fully-fitted apartments and gained a wealth of experience in this field.

Our offer of top quality fit-out designs and&nbspmaterials is regularly updated in response to changing client expectations and best new market trends.

FOUNDING OF THE PZFD

Our commitment to professionalization of&nbspthe&nbspPolish housing industry supported the&nbspestablishment of the Polish Association of&nbspDevelopers (PZFD), in which we continue to&nbspbe&nbspactively involved. The purpose of PZFD is&nbspto&nbspensure favourable conditions for the&nbspproperty development business. Dom&nbspDevelopment also took part in the drafting of the Code of Good Practice which applies to&nbspall&nbspmembers of the PZFD in respect of their client-developer relationships.

EXCEPTIONAL PROJECT

One of the most recognised residential projects in Warsaw has commenced. Its&nbspnew&nbspreveal, Apartamenty i Rezydencje Marina Mokotów, was launched in 2018 and&nbspcompleted in 2020. The&nbspproject includes a&nbspprivate two-hectare park, accessible to&nbspresidents and their guests.

COMPANY LISTED ON THE WARSAW STOCK EXCHANGE

The shares of
Dom&nbspDevelopment S.A. were placed
for the first time on&nbspthe&nbspWarsaw Stock
Exchange. Each year, our company pays a&nbspdividend to&nbspour shareholders, and its
amount increases year by year. The value
of&nbspthe&nbspfirst dividend was
PLN&nbsp0.15 per share, while
in 2020 it reached PLN&nbsp9.50
per share. The same year
we won the Best SWIG80
Company award.

ENTRY INTO THE WROCLAW MARKET

The start of Osiedle Oaza marked the beginning of&nbspour presence in Wroclaw, the main city in&nbspthe&nbspLower Silesia region. The growing scale of&nbspour&nbspoperations has enabled us to establish a&nbsprecord number of delivered units in Wroclaw at&nbspapproximately 400 in 2020.

MORTGAGE LOANS

As the first developer in the market, we&nbspestablished our&nbspown&nbspCredit Consulting Department. Currently, Dom&nbspDevelopment Kredyty, a&nbspDom&nbspDevelopment Group company, provides assistance to&nbsp75% of our customers who finance their apartments with a&nbspmortgage. Our mortgage specialists participate in&nbspover&nbsp1500 loan transsactions per year.

OSIEDLE WILNO

In 2012, the first residents of Osiedle Wilno received the keys to&nbsptheir new apartments. Currently, Osiedle Wilno is inhabited by&nbspover 7&nbsp000 people - for their needs we have built a&nbsprailway station and we have enriched common areas with many art features.

ŻOLIBORZ ARTYSTYCZNY

The commencement of Osiedle Żoliborz Artystyczny, which features a unique combination of modern architecture and art. Appreciated by experts, this award-winning project is cherished by nearly 7&nbsp000 clients.

ENTRY INTO
THE TRICITY MARKET

Dom&nbspDevelopment Group has incorporated Euro&nbspStyl&nbspS.A., a housing market leader in the Tricity region, thus beginning its operations in&nbspthis coastal region of Poland. Since the beginning of our cooperation, Euro Styl has been handing over ca.&nbsp700 units yearly to its clients.

GENERAL CONTRACTORSHIP

Dom&nbspDevelopment Group established the general contractor for its projects

. The company is now involved in the construction process of the majority of Dom&nbspDevelopment investments, ensuring that they are run smoothly, that they meet high‑quality standards and are delivered on&nbsptime.

FIRST SERVICED APARTMENTS

In Gdansk, on the former shipyard site, we have started - for the first time in the company's history - a&nbspproject consisting of serviced apartments with hotel function and a large food&nbsphall. The&nbspproject is&nbsplocated in a building of&nbspa&nbsphistoric submarine engines&nbspassembly plant.

EXPANSION INTO THE KRAKÓW MARKET

Sento S.A., a Kraków-based developer with 20 years of experience, is a new addition to the Dom Development Group. This acquisition has extended our operations into the most important city in Lesser Poland which is also the second largest real estate development market in the country.

Extending the acitivities in Cracow

At the beginning of the year, another housing developer in Cracow – Buma - joined our Group. Thanks to its merger with Sento, we have created Dom Development Kraków which is responsible for execution of our projects in the capital of Małopolska. The first project of the new company is a multi-stage Górka Narodowa Residential area, offering a fully functional living space.
OUR ACCOLADES
We have won many prestigious awards and honours.
BOOK OF LIST 2019/2020 (1ST PLACE)

THE DEVELOPER OF THE DECADE 2019

THE DEVELOPMENT PROJECT OF THE DECADE 2019

SPACE CREATORS 2018 (1ST PRIZE)

PROPERTY DEVELOPER OF THE YEAR 2017

THE ARCHITECTURAL PRIZE OF THE MAYOR OF WARSAW (2017)

ZŁOTA VILLA AWARD (2017)

For the most reliable property developer

WSE COMPANY OF THE YEAR (2016)

3rd place awarded by the editorial board of "Puls Biznesu" and Kantar TNS

ARTISTIC ŻOLIBORZ – BEST AFFORDABLE HOUSING DEVELOPMENT (2015)

The title awarded by the magazine "Construction & Investment Journal"

ARTISTIC ŻOLIBORZ - BEST ARCHITECTURAL DESIGN OF 2015

According to Otodom's Development Project Ranking

WILNO ESTATE – BEST HOUSING PROJECT (2012-2015)

2nd place awarded by the Polish Association of Developers (PZFD) in the category "Multi-Family Building Complex"

SARP 2014

For our building at Czesław Niemen square, Warsaw

RESIDENTIAL DEVELOPER OF THE YEAR (2013)

1st prize for Dom Development

LUXURY BRAND OF 2012

Opera Residence

RESIDENTIAL DEVELOPER OF THE YEAR (2012)

Presented at the Eurobuild Awards Gala

DEVELOPER CERTIFICATION (2010)

Awarded by the Polish Association of Construction Industry Employers (PZPB)

PEARLS OF THE POLISH ECONOMY (2008)

CRYSTAL SUITE (2007)

For the Patria Estate

CRYSTAL DEVELOPER (2007)

For Dom Development

FORBES DIAMONDS (2007) in the Mazovian Province

"For dynamic value growth"

THE COMPANY OF THE YEAR (2007) in the Mazovian Region by FORBES RANKING

PEARLS OF THE POLISH ECONOMY (2007)

2nd place in the category of "LARGE PEARLS"

BULL STATUETTE – recognising the company's STOCK EXCHANGE DEBUT on 24.09.2006

REFE EAGLES (2006)

Award for the best global projects in 2006

TOP 100 OF THE MOST EFFICIENT COMPANIES IN 2006

According to ROCE

FORBES DIAMONDS (2004-2006)

1st place: "Sales revenue over PLN 250 million"

THE GOLDEN WEBSITE (OF ISSUERS)

9th edition For the best website of a listed company

ARTISTIC ŻOLIBORZ – MOST INTERESTING ARCHITECTURAL DESIGN

Residential Developer of the Decade – Eurobuild 2010

RESIDENTIAL DEVELOPER OF THE YEAR (2013)

1st place for Dom Development
Strona domd.pl może wyświetlać się nieprawidłowo
Używasz przeglądarki, która nie jest aktualna, w związku z czym strona domd.pl może wyświetlać się nieprawidłowo. Otwórz stronę w innej przeglądarce. Jeśli potrzebujesz pobrać i zainstalować wspieraną przegladarkę, linki znajdziesz tutaj:
Pamiętaj, że oprócz wyświetlania prawidłowo treści, aktualna przeglądarka zadba o Twoje bezpieczeństwo w sieci.