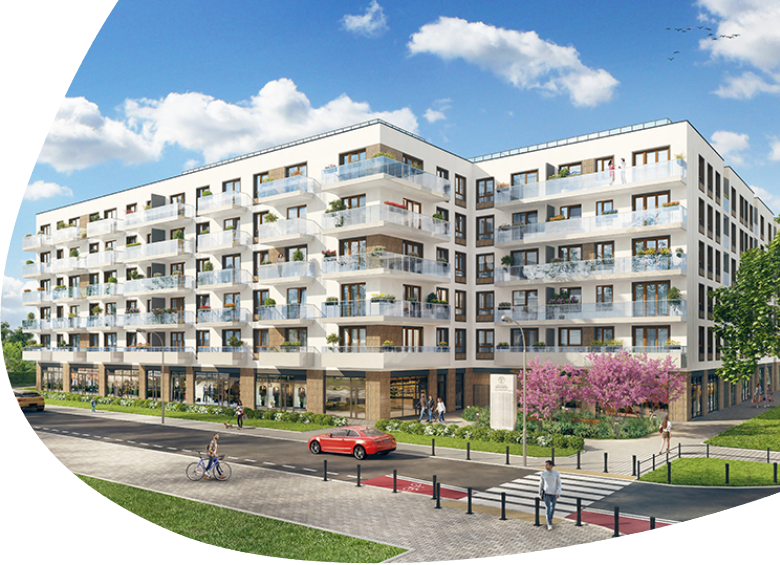 LAST 10 APARTMENTS
500 METRES FROM
METRO KSIĘCIA JANUSZA
Check our current offer
22 351 66 79
Mon. – Wed. 10 am – 6 pm
Thu. 11 am – 6 pm
Fri. 10 am – 6 pm
Sat. 10 am – 3 pm

NEXT TO GREEN AREAS
Apartamenty Koło Parków is a new project by Dom Development situated next to the junction of Ciołka and Brożka streets. A superb location in the Wola district, close to the metro and with numerous parks in the vicinity, ensures the comfort of your everyday life, while the classy architecture and original interior design will please even the most demanding eye. The Apartamenty Koło Parków project is the place that perfectly combines beauty, comfort and quality.

NEXT TO GREEN AREAS
numerous green areas in the neighbourhood (such as Park Moczydło, Lasek na Kole, Park Szymańskiego and Park Sowińskiego)
500 meters away from Księcia Janusza metro station
close to Wola Park shopping centre with a wide range of shops, service outlets, and a cinema
classy architecture and unique interior design
functional upper-standard apartments
eco and smart building solutions (solar panels and building automation)

Green Project Charter
The Green Project Charter (GPC) is an internal standard which guarantees optimal benefits for residents, and design solutions that are consistent with the priorities of sustainable urban development.

Apartamenty Koło Parków complies with the requirements of the Green Project Charter as it has a wide range of features that ensure comfort of living and caring for the environment.

Learn more about our Green Charter.


EXCELLENT LOCATION
The Apartamentów Koło Parków project is located in the Wola district in Warsaw, and offers many benefits:
convenient and quick access to the city centre and other districts of Warsaw thanks to the nearby Księcia Janusza metro station (150 meters away from the project) and many tram lines on Obozowa street,
easy access to major thoroughfares such as Górczewska and Aleja Prymasa Tysiąclecia which makes moving around the city easy,
close to the S8 expressway, which provides convenient exit from the city,
approx. 10 minutes away from Warszawa Zachodnia railway station.

ALL WITHIN YOUR REACH
The location of the project in the Wola district makes your everyday life comfortable. The Księcia Janusza station on the 2nd metro line is just 500 m away and provides a quick commute to the city centre. The Wola Park shopping centre features a cinema, shops and a food court, and is conveniently located close by. You can relax in one of the many parks in close proximity, including the Moczydło Park (just 300 meters away) with a complex of outdoor swimming pools and water attractions, play grounds and bike paths. There are schools and preschools in the vicinity.
Advantages of the localization
Numerous cycle path in the area

Excellent location

City center nearby

bus stop nearby

Close to schools and kindergartens

Close to Stawy Cietrzewia

Exceptional walking areas in the neighbourhood

Close to new business centres

Easy access to the Warsaw ring road

Quiet and safe neighbourhood

9 minutes to the subway

WITH COMFORT IN MIND
A wide range of elements on the estate are there to improve the living comfort of its residents. These are:
Smart buildings

intelligent solutions that open driveways/pedestrian gates/doors to the building with a smart phone and automatic lift call up

Zen zone

outdoor spaces featuring benches, all these surrounded by greenery which provides a place for a peaceful relaxation in nature yet close to home

Safety

community access control system for the estate for individual buildings and garages

Anti-smog filters

add-ons to HVAC systems that clean the air in each home to protect residents from smog, allergens and other pollutants

Bicycle infrastructure

bike stands and a bike room to facilitate the convenient use of bicycles

Unique atmosphere

interior designs with distinctive decor details and consistent visual identification system to improve the attractiveness of the common areas of the project.

CLASSY ELEGANCE
The Apartamenty Koło Parków project comprises a 5-storey building, inspired by the architecture of famous and highly appreciated modernist estates in the neighbourhood. Quality materials, such as mineral brick tiles, were used on the façade of this apartment building. The art-deco interiors feature unique details such as ribbed glass, louvres or geometrical-shape lamps. Moreover, a picturesque patio is planned into the project. It is to have various heights, an abundance of colourful plants and peculiar in design items of structural landscaping.
Advantages of the project
High quality finishing materials, certified anti-dust paints

Premium materials used for the façade and interiors (ceramics, Lacobel glass and elastolith)

Waste segregation rooms away from circulation routes and equipped with a separate ventilation system

Balcony, terrace, loggia or private garden for all flats

Glass balconies

Structural landscaping - benches, deckchairs etc.

Meticulously arranged green areas

Energy-saving LED lighting in common areas

Energy-efficient lifts

Common areas fed from photovoltaic panels


Bike storage room

Videocom system

Community access control systems for the estate, for individual buildings and garages - Blue Bolt


Garages equipped with ventilation with carbon monoxide and propane-butane sensors

Modern architecture

An underground garage hall and surface parking spaces next to the building

Service spaces on the ground floor of the building

Excellent project to live in or for rent

Fenced and monitored with 24/7 security service for the constant safety of residents

Footpaths with proper lighting


Facilities for people with disabilities

Low small-scale buildings

Segregation of waste

ENVIRONMENTALLY FRIENDLY
The project will have a number of green features, including:
Roof-top photovoltaic panels

Roof-top photovoltaic panels reduce CO2 emissions and lower the energy bills for common areas

Sustainable transport

Bicycle stands, bicycle room and a generally accessible charging station for cars to facilitate the use of environmentally friendly means of transport

Green areas

Greenery in the form of trees and shrubs are arranged to lower the temperature on hot days, to absorb pollutants, and also to retain water thus helping conserve biodiversity

Lighting

the use of modern LED lamps and dusk detectors, with the possibility of setting a night break so as to reduce power consumption and lower electricity bills while smartly located light fixtures reduce light pollution

Green roof

the vegetation on the roof improves the local climate by increasing air humidity and reducing air temperature, provides thermal and sound insulation, protects the roof against damage and purifies the air

Waste segregation

bins located on the project enable residents to segregate their waste

Low-carbon concrete

a pavement made of a material with titanium dioxide additives, to absorb substances such as nitrogen oxides from traffic-related pollutiona pavement made of a material with titanium dioxide additives, to absorb substances such as nitrogen oxides from traffic-related pollution

COMFORT AND FUNCTIONALITY
There are 121 apartments on offer, ranging from 26 to 120 square metres. The functional one-to-five-room layouts facilitate creative interior decoration, and the above-standard height of the apartments, wooden windows and video door-phone ensure comfort of living. Apartments on the first floor and higher floors will have balconies or loggias, and those located on ground floor will feature spacious private gardens. In addition to this, roof-top terraces will be available for certain units. For residents' convenience we have designed an underground car park and storage lockers.
Advantages of the apartments:
Adequate sunlight in all flats

Optic fibre and TV cables pre-installed in all flats

Flat height above the standard

High windows

Balcony, terrace or loggia door without a sill in some units

Noise protection of all flats

Lighting of terraces, loggias and balconies

Functional flat layout


Anti-smog protection windows

Certified security doors

VISIT OUR SALES OFFICE
Why is it worth visiting us?
Our sales offices are located on site or in the vicinity of the project, so you will be able to explore the neighbourhood and view your future apartment and project grounds.
During the meeting, we will take you through the purchase process, answer your questions, present visualizations, 3D mock-ups and apartment plans, all in a pleasant atmosphere.
Safety first! To protect our customers' health, we have put in place the necessary protection measures in our offices.
CALL AND ARRANGE A MEETING
We are here to answer every question
Sales Office Address

ul. Ludwiki 4a, Warszawa

Find directions

Mon. – Wed. 10 am – 6 pm
Thu. 11 am – 6 pm
Fri. 10 am – 6 pm
Sat. 10 am – 3 pm
Meet our advisors
They'll give you a detailed offer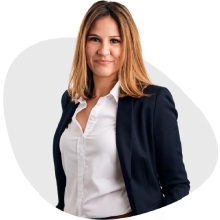 Anna Lezińska
[email protected]
664 140 220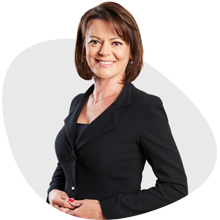 Iwona Grodek-Szalak

[email protected]

728 821 836


УВАГА! МИ РОЗМОВЛЯЄМО УКРАЇНСЬКОЮ МОВОЮ!
Наші співробітники будуть раді поспілкуватися з Вами українською мовою та відповісти на будь-які Ваші запитання. Зв'яжіться з нами за телефоном або електронною поштою.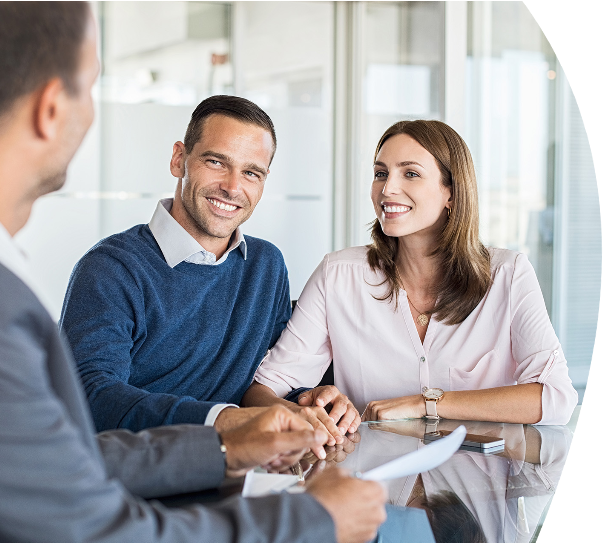 MORTGAGE LOANS
Looking for a loan?
Take advantage of our expertise and support in obtaining finance for your apartment or commercial space. Check out our loan brokerage services.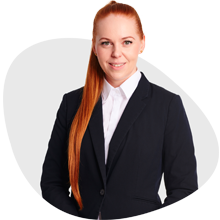 Magdalena Muzolf
Specjalista ds. Kredytów Hipotecznych
[email protected]
664 140 217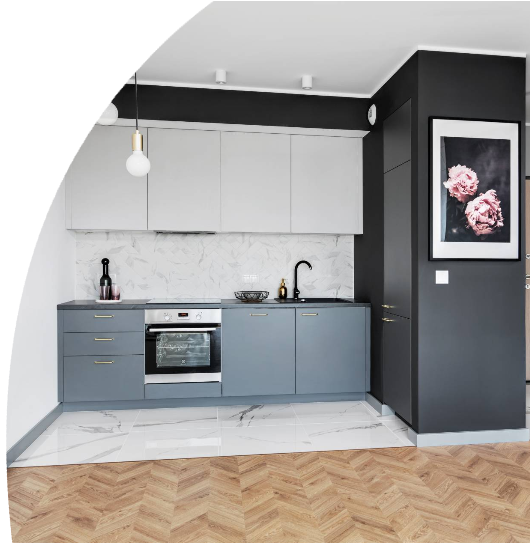 FIT-OUT PACKAGES
Together we will create your space
Take advantage of our expertise and services to fit-out your turn-key apartment. Check out our range of fit-out packages.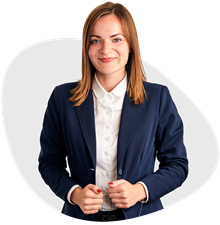 Paulina Bilska
[email protected]
539 529 387
Strona domd.pl może wyświetlać się nieprawidłowo
Używasz przeglądarki, która nie jest aktualna, w związku z czym strona domd.pl może wyświetlać się nieprawidłowo. Otwórz stronę w innej przeglądarce. Jeśli potrzebujesz pobrać i zainstalować wspieraną przegladarkę, linki znajdziesz tutaj:
Pamiętaj, że oprócz wyświetlania prawidłowo treści, aktualna przeglądarka zadba o Twoje bezpieczeństwo w sieci.