NEW STRATEGY HOME 2030
As the leader of the Polish housing market, we feel responsible for the communities and the ecosystem of the agglomerations in which we operate.

The world is undergoing profound changes at an unprecedented scale and pace. We are increasingly recognizing the strong link between sustainability, our quality of life and the economy.


WHY ESG?
"ESG will significantly determine the further development of the real estate industry, influencing every aspect of investment processes. We skilfully combine environmental, social and organizational topics with business issues, which is both a challenge and an opportunity.

Dom Development Group perfectly understands it and that is why sustainable development is an essential element of our strategy."

Mikołaj Konopka, Member of the Management Board of Dom Development responsible for the ESG area


HOME 2030 strategy
HOME 2030 is the sustainable development strategy of the Dom Development Group, which systematizes our current and future activities in the ESG area and sets our business directions for the coming years.

Our priority is to create ecological and sustainable housing estates (E) supporting the building of neighbor relationsand the functioning of local communities (S) and ensuring the highest standards of corporate governance for transparent communication with all stakeholders of the Group (G) .
PILLARS OF THE STRATEGY
The HOME 2030 strategy is our response to the challenges of the future. It is based on three pillars:


GREEN INVESTMENT CARD
The Green Investment Card is our internal standard developed in 2022. It guarantees an optimal set of benefits for residents and the use of design solutions in line with the priorities of sustainable urbanization. Each of the elements included in the Card corresponds to a given number of points. An investment is compliant with the Charter if it receives 75% of their sum.

Our goal is to gradually implement the Green Card in such a way that in 2026 all new projects meet its requirements.


WE ARE FAIR
Every day brings new challenges, contacts and perspectives – but all the decisions we make share a common feature: responsibility.

The "We are Fair" program is a summary of our standards and a declaration of well-thought-out promises, divided into three areas of responsibility: for the product, for relations and for the local community.
CONTACT
Please contact our representative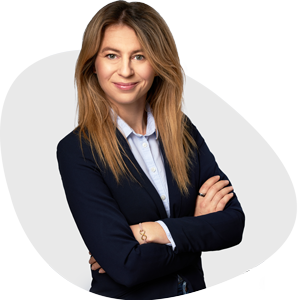 Anna Bączyk
Koordynator ds. ESG i Rozwoju Produktu
[email protected]
539 541 097
REVIEW THE REPORTS AND DOCUMENTS ON THE WEBSITE:
Strona domd.pl może wyświetlać się nieprawidłowo
Używasz przeglądarki, która nie jest aktualna, w związku z czym strona domd.pl może wyświetlać się nieprawidłowo. Otwórz stronę w innej przeglądarce. Jeśli potrzebujesz pobrać i zainstalować wspieraną przegladarkę, linki znajdziesz tutaj:
Pamiętaj, że oprócz wyświetlania prawidłowo treści, aktualna przeglądarka zadba o Twoje bezpieczeństwo w sieci.